Dynamic Syncopation - Dynamism - 1999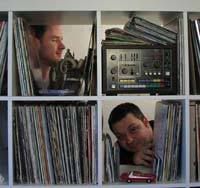 Dynamic Syncopation are Jonny Cuba & the Loop Professor. This is the follow up to their debut album 'Jiznoint'. The album features nuff special guests including New York's Yeshua Da PoED, owner of Head Bop Music and the UK's Juice Aleem. Seriously one of the dopest shits in years this is packed with top of the line hip hop. I believe they've dropped another album since which i don't own yet (criminal i know, cash man cash) but I'm gonna dig for thats. 105 Meg of hair raising cruise juice, this vinyl is a total must. Released on Ninja Tune. This rar file also has 'Live at Tilos - Part I.' inside.
Label:Ninja Tune
Catalog#:ZENCD 043
Format:CD
Country:UK
Released:Oct 1999
Credits:Producer - Dynamic Syncopation
Notes:All tracks recorded & produced by Dynamic Syncopation except "Veteran's Leg" with Toby Howell and "Swings And Roundabouts" with Burak Agca. All tracks mixed & mastered by 'No Sleep' Nigel at the Politbureau except "Intro" mixed at Traintrax studios. Cut by Martin Giles at CTS studios.
1 - Dedicated
2 - Bahian B-Boy
3 - Dynamism
4 - Intro
5 - Ground Zero
6 - Veteran's Leg
7 - Dynamism
8 - The Essence
9 - Rock
10 - Homing In
11 - Swings & Roundabouts
12 - Its A Monster
13 - Losing Your Soul
____