DJ Skully - Champion Sounds - 2003
Perhaps best known for his title-winning exploits in recent years, (He was the 2002 UK Champion and also came 2nd in the world DMC championships). He also co-hosts a show on Kiss FM alongside DJ MK.
This LP features 15 previously unreleased tracks - all cut n' patched into a seamless 55 minutes of straight rockin hiphop. Swinging between US and UK joints the LP doesnt dwell on geography but prefers to hit hard n' keep the mood rolling deep. Not all of the tracks hit my sweet spot but my personal highlights include: 'Components of Competition' by Unleashed By Science which uses Skully's tight cuts to intersect some wicked themed lyrics, whilst the layered production grooves with panache. Lewis Parker's dark banger 'Ay Yo', his bumpin production gets absolutely laced by Skriblah slapping down some bad battle rhymes. Celph Titled smacks some real attitude on 'Turntable Science' which gets atmospheric through shiny production and deejay themed verses - absolutely blinding.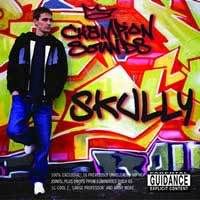 01. DJ Skully 'Intro'
02. Unleashed By Science & DJ Skully 'Components Of Competition'
03. Headkrack 'Champion Sounds Special'
04. Maylay Sparks 'Take Risks'
05. Royalty featuring Mikey Starr 'Word Play'
06. Skriblah & Lewis Parker 'Ay Yo (I'm Here Now)'
07. Canibus 'Escape To Victory'
08. Celph Titled & DJ Skully 'Turntable Science'
09. The ARE featuring Headkrack 'Moving Target'
10. Joe Buhdha & Terrafirma 'B 4 U Die (The Burial)'
11. Est'elle 'Feelings'
12. Harmonic 33 featuring MCM 'It Feels Good'
13. Danny Breaks 'Junkie For Beatz'
14. Divine Mind featuring B.I., Loose Kannon, Mikchek & D.T. 'Good to Know'
15. LPD 'This Life'
16. Jehst & Tommy Evans 'Nouveau Riche' (BONUS EXCLUSIVE)
____