Aspects - Correct English - 2001
Aspects dropped Correct English in 2001, a really solid English LP with 3 or 4 blinding tracks. Produced by Specify with cuts from himself and Nu Balance and lightning sharp Bristol Vocals this LP has to be a physical item in your boxes. Tracks to check for are 'Top Choice' and 'We Get Fowl', skits are dreamy to say the least.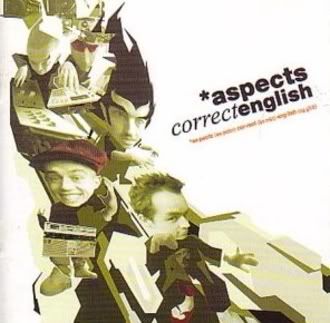 1. Correct English
2. Top Choice
3. We Get Fowl
4. Adverse Curves
5. Groovy Baby
6. Psycho Boogie
7. My Genre
8. Intrigue
9. Specify In Love
10. Kronos Devive
11. Witchcraft
12. Scary Lesson
13. Bristol Fingers
14. Best Music
15. Here We Go
16. Ects Factor
17. Lost Soul
I've also included the follow up LP 'Mystery Theatre' released in 2004, also on Antidote.
1. Impact
2. Off The Lip - Aspects & The Bees
3. Way Back
4. Man Under The Sea
5. Rev Soul
6. Soul Sister - Aspects & Little Barrie
7. Way She Speaks
8. Self Help Song
9. Chase The Devil - Aspects & Alkaline
10. Droppin' Drums
11. City Limits
12. Stink Bomb
13. My World
____