Mind Bomb / Rufmouth - Great British Beef - 1999

One of my heroes today. Definately the soundtrack to growing up here. If anyones known me over the years they'll recognise any of these albums cos they just keep being turned over time and time again. I'm gonna drop Great British Beef today as I've got the CD as well here, so you can get a 320 rip on this. But really you need to be checking for the entire Ruf Beats archive. Never let you down weather it be never seen before weapons, brilliantly produced hard beats and British to the core vocals. Get on the mailing list and get some value for money.
Since 1993 he has performed as all names all over the world and is known as an underground leg – end, whether as a Dj, live show or his anything goes mixed up marathon displays of all round musical / hip hop school. Now becoming known as an entertainer and educator with his inspired writings on ALL THINGS FORBIDDEN – 9/11, the New World Audeuf, Masonic matters, Xopolitics and the game for control of mankinds' brains and souls, he is currently Dj'ing, performing, reading poems, writing books, making music, travelling the world and in short, trying to get the truth to you lovely people in as least a painful method as possible. Rufmouth loves life, humanity, music, art, soul, (most) people but always felt he never really belonged until Revelations made him ascend his various typical British neurosis in 2001-2004.




Ruf Beats is both Rufmouths' properly independent record label, that licenses and sells its track worldwide and the world reknown mail order record supplier of rare and dope DJ vinyl. Currently in 2004 these have been all put under the Rufmouth website, whilst Rufmouth tries to bring all his activities back to the core essence of himself, as Rufmouth, with NEW RULES that will show the world a new way of doing things through humanity and love, whilst trying to spread out party vibes and good times for the oppressed masses.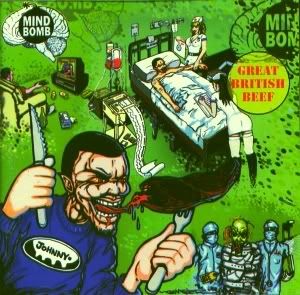 Label:The Ruf Label
Catalog#:ruf 023CD
Format: CD
Country:UK
Released:1999
Genre:Hip Hop
Credits:Producer - Ruf, The
1 Ruf Beats (5:28) - Human Beatbox - Nick Reece
2 Twisted Therapy (4:44) - Vocals - Marie
3 Great British Beef (4:54)
4 Drip Feed Me Hip Hop (5:55)
5 The Relationship (5:49)
6 Free Weed (5:15) - Vocals - Marie
7 Seducer (5:29) - Human Beatbox - Nick Reece
8 In The Beginning (Instrumental) (2:44)
9 Deconstruction Of Falling Stars (4:33)
10 Hardcore Sun Storm (Instrumental) (3:30)
11 Work Like A Slave 2 Become A Master! (5:31)
12 Produce The Friction (4:51)
13 Just Wanna F#$k (5:37)
14 Wonderful World Of Alcohol (3:42)
15 Twisted Therapy (Version 2) (5:39)
____