Braintax - Run The Yards / Last Tenner - 2006
New album from one of the busiest guys up here. So this'll be a nice sneak at whats on the way. If you havn't got Biro Funk you must be crazy :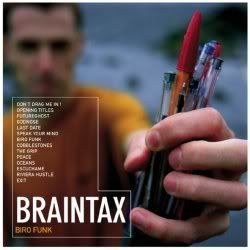 As the label approaches its 50th release with artists such as Skinnyman, Jehst, Taxforce, Verb T & Harry Love and Mystro on the books, you can see why it's taking Braintax (aka Joe Christie) so long to get out a follow-up album to Biro Funk.

On the strength on the new 12", it should be worth the wait as these are a couple of tracks that show off British rap at its best. Could 'Last Tenner' translate across the pond? The beats could without a doubt. "Lets go and get drunk" is a rally cry but not for any lager lout mosh pit fight club performance. The warning is at the start "The world has so many problems..We have lost so many young men". But what can you do at 2.30am in a northern city with £10 in your pocket walking home? Braintax's cry for peace is subtle, "Stop trying to act hard as it's hip hop's curse".

And then many things curse hip hop and he should know. 'Run The Yards' shows off his opionated flow slagging off major labels; it's an easy hit. Stay angry and humble. If you don't like Braintax's chant cum poetry message, the instrumentals are excellent.

'Last Tenner' is bump bump funky while 'Run The Yards' is like some Kung Fu movie intro with Hank Marvin's twangy guitar (hey! Twangy guitar brings together Braintax, Aim and Trost, BAT, the most unlikely trio supergroup ever!).

This is well up to the standard of 'Let's Go Away', which he did with Emmanuel and the forthcoming album Panorama is likely to be more of the same quality beats and original lyrics. To support the album, there's a tour with fellow Low Life MC and long time mate, Mystro plus DJ Kam and Nighmares On Wax drummer Isaac Heywood. Remember to take a spare tenner to get home with.

UK Tour [October]:
20th Camouflage — The Rescue Rooms, Nottingham
21st Fiddlers — Bristol
24th The Tuesday Club — Sheffield
27th The Charlotte — Leicester

[November]
1st Roadhouse — Manchester
3rd New Bohemia — Faversham, Leeds
4th Warwick University — Coventry
11th The Opera House — Bournemouth www.operahouse.co.uk
25th Student Union — Brookes, Oxford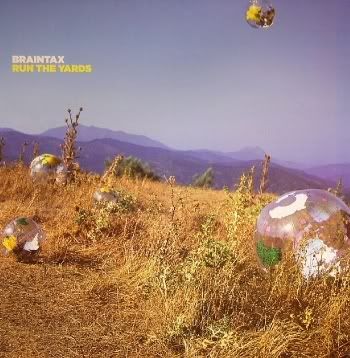 Label:Low Life Records
Catalog#:LOW 45
Format:12"
Country:UK
Released:2006
Credits:Producer - Beat Butcha (tracks: A1 to A3) , Braintax (tracks: B1 to B3)
Notes:White label promo copy.
A1. Run The Yards (Dirty)
A2. Run The Yards (Clean)
A3. Run The Yards (Instrumental)
B1. Last Tenner (Dirty)
B2. Last Tenner (Clean)
B3. Last Tenner (Instrumental)
____