Ty - Upwards - 2003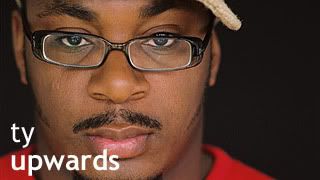 Very few British emcees have managed to achieve the full recognition they deserve in hip hop. This is specifically the case with veteran rapper Ty. One of London's favourable emcees, Ty has always stood apart from his peers, going his own way rather than running with the pack.

After dropping his debut album, the aptly entitled Awkward in 2001, the woolly hat- wearing emcee is back with the follow up: Upwards. Having produced the album, along side Drew from Physic Phenomena, this time he's ensured his signature is firmly stamped all over it. With an eclectic ensemble of over twenty musicians contributing to the album, (including afro beat drummer Tony Allen and vocalists Michelle Escoffrey, and Breis), there is a distinct live "jamming session" vibe present.

Kicking off with "Ha Ha" a gritty hip-hop b-line with a rock influence this definitely serves as a fitting opener. The catchy retro sound of "Wait a Minute" has Ty attempting to address those all too familiar relationship issues. He also goes on to the serious matter of gun crime with "Rain", a melancholic track laced with smooth soulful vocals. "Groovement" is the first single release - a summery feel good track, with instant appeal that entices you from the first play, youll find it difficult to resist tapping a toe. Other noticeable tracks include "The Willing" and "Music 2 Fly To" in which Ty continues to enlighten us with his personal and reflective observations of everyday life.

In the current climate of UK rudebwoys spitting gritty tales of street survival, Upwards is doing something a little different. Embarking on a journey that is reminiscent of the true essence of hip hop, by using a hybrid of diverse musical flavours incorporating, hypnotic African rhymic beats, smoothed out jazz, old school funk, not forgetting a touch of soul.

This rapping "Awkward Boy" is totally uncompromising in setting his own precedents. He's elevating himself upwards and inviting us to come with him. So just sit back, listen and enjoy the ride!

Reviewer: Buki Bakare



Ty tells tales of universal truth without once flashing his bling or bashing the dictionary, and the jazzy beats which seem deceptively simple if funky enough on first hearing soon reveal new depths. Instantly accessible, endlessly rewarding and absolutely essential. Check particularly for tracks like Dreams Which I've put in the MP3 Player)... More of a work of art than just Hip Hop the voices tell me.
Again. If you havn't got this wax, your crates have got big problems.
Label:Big Dada
Catalog#:BD057
Format:3xLP
Country:UK
Released:2003
01 Ha Ha
02 Mpoh's Lament (Skit)
03 Wait a Minute
04 I Want 2
05 Awkward Boy Skit
06 Oh U Want More?
07 Rain
08 The Willing
09 Look 4 Me
10 Groovement (Part 1)
11 Expectations
12 Taking It Back
13 Hot Spice
14 Dreams
15 Inner Love (Samba)
16 Music 2 Fly 2
____