Demon Boyz - Recognition - 1989
Been living Hip Hop a long time now. And over those years I've heard many times "Demon Boyz are the best Hip Hop act to ever come out the UK". And from serious heads that know the score proppa... Now I've never said that myself, but I felt the fact needed a mention when posting the first bit of Demon B on here. Rare LP by all accounts. Class act lyrically, I'll let the Wikipidia link I posted teach you any details you need. Enjoy.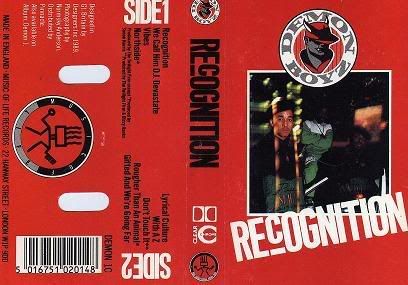 Label:Music Of Life
Catalog#:DEMON 1
Format:Vinyl, LP
Country:UK
Released:1989
A1 Recognition
A2 We Call Him D.J. Devestate
A3 Vibes
A4 Northside
B1 Lyrical Culture
B2 With A Z
B3 Don't Touch It
B4 Rougher Than An Animal
B5 Gifted And We're Going Far
Someone upstairs is blessing you If you find this. So If you see it anywhere, just buy it n ask no questions.
____